Faculty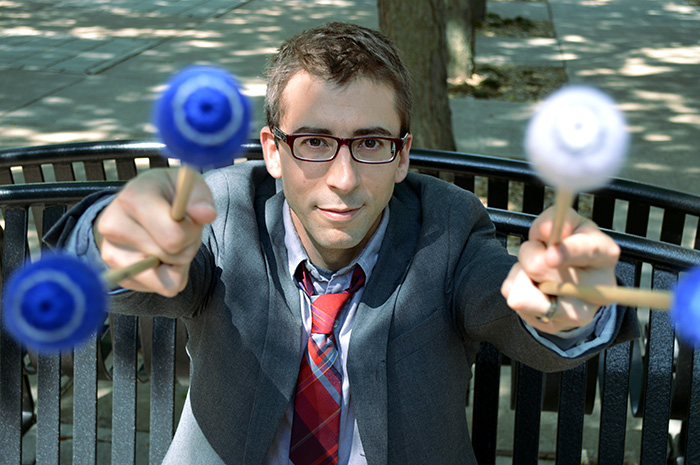 Casey Cangelosi
Marimba/Composition/James Madison University
Percussionist and Composer, Casey Cangelosi is the Director of Percussion Studies at James Madison University. He is commonly hosted world-wide by educational institutions, music festivals, and educational seminars. Casey has been a visiting guest artist in Italy, Germany, Costa Rica, Mexico, Argentina, Croatia, Sweden, Taiwan, and widely across the U.S. at events including the The Midwest Clinic and PASIC Showcase Concerts. Casey is a regularly commissioned composer and from the percussion community called the "Paganini of Percussion" and "The voice of a new generation".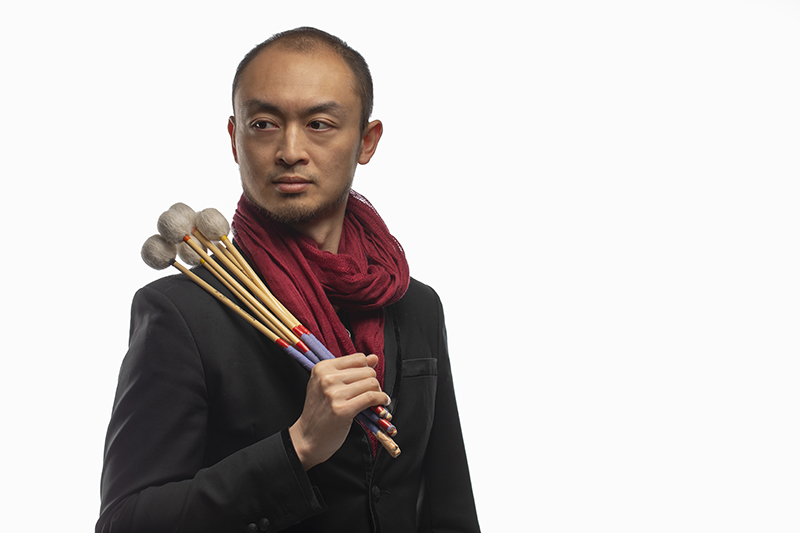 Pius Cheung
Marimba/Composition/University of Oregon
Hailed by the New York Times as "deeply expressive" for his groundbreaking recording of Bach's Goldberg Variations on solo marimba, Pius Cheung is widely known as one of the most important percussionists of his generation. He has presented solo recitals at Carnegie Hall, Kennedy Center, National Centre for the Performing Arts in Beijing, National Concert Hall in Taipei, Kyoto Arts Center (Japan), as well as music festivals around the globe. Mr. Cheung endorses Yamaha, Zildjian, Remo, and Innovative Percussion, which produces his signature mallet series. Mr. Cheung is currently an Associate Professor and Chair of the Percussion Area at the University of Oregon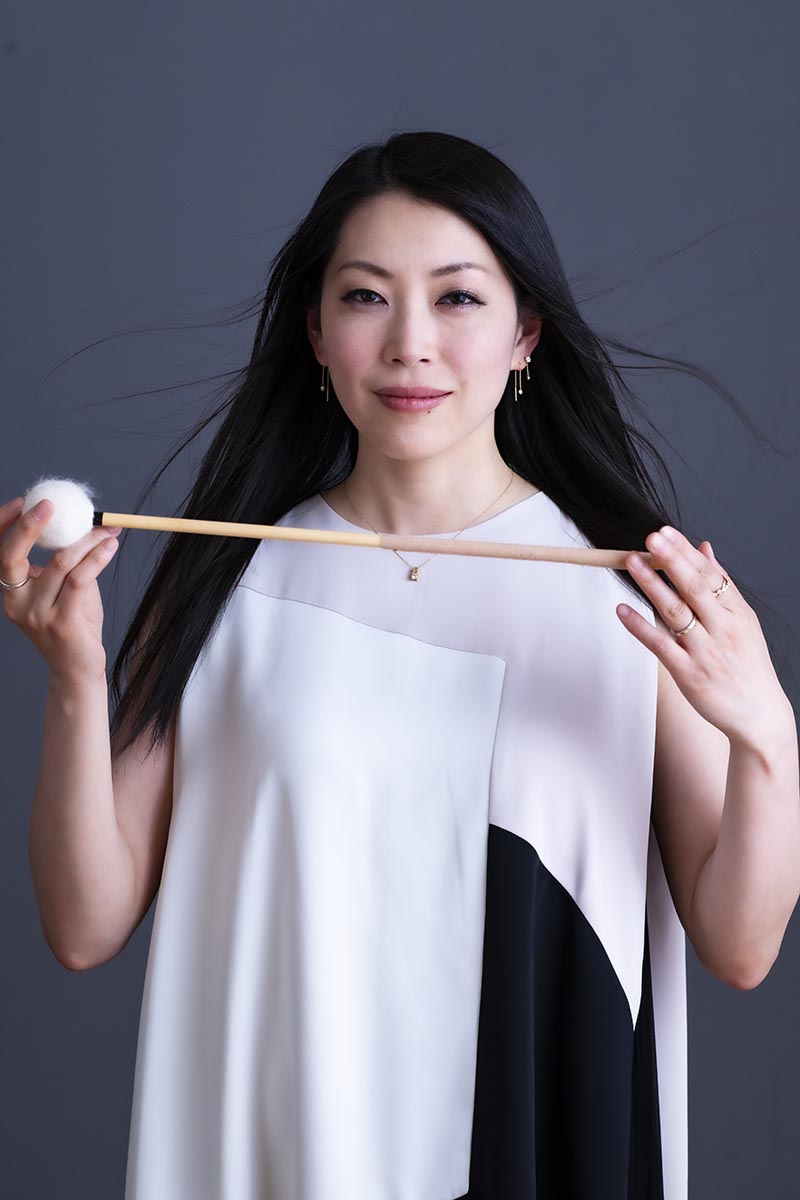 Eriko Daimo
Marimba/New York University/Juilliard Precollege
Praised for her 'mesmerizing combination of sound and sight' (Irish Times), the award-winning marimbist, Eriko Daimo, is one of the leading marimba artists of her field. Her recent performances include concerto performances with some of the world's leading orchestras such as the RTE Ireland National Symphony Orchestra, Tampere Philharmonic in Finland, Sofia Philharmonic Orchestra, Nagoya Philharmonic Orchestra, as well as recital tours over 25 countries in Asia, Europe and the Americas. Her performances during 2019/20 season was in U.S, Canada, France, Bulgaria, Netherlands, Austria, Hong Kong, China and Japan.
She is currently on the faculty and Director of Marimba Studies at the New York University Steinhardt and faculty at The Juilliard School Precollege. Ms. Daimo is an endorser of Marimba One, Innovative Percussion, and Zildjian Cymbals.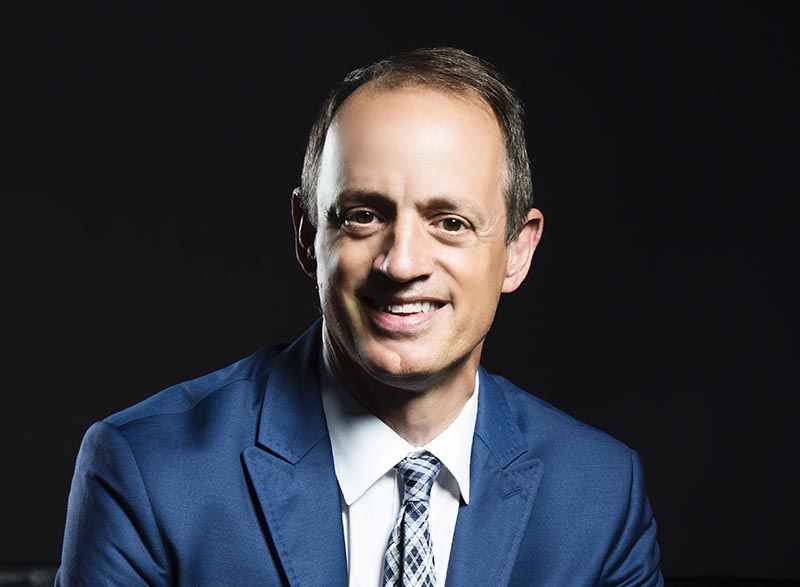 Mark Ford
Marimba/Composition/University of North Texas
Mark Ford is a marimba artist and the Coordinator of Percussion at The University of North Texas College of Music in Denton, Texas. As a Past-President of the Percussive Arts Society and the coordinator of one of the largest percussion programs in the United States at UNT, Ford is an active performer and composer. Mark has been featured as a marimba soloist throughout the United States at universities, festivals and music conferences. He has performed internationally throughout Europe as well as in Japan, China, Taiwan, Australia and South America. In addition to his duties at UNT, Ford is also the Artistic Director for the annual Drum Fest Marimba/Vibraphone Competition in Opole, Poland. Ford has been recognized as a leading percussion educator, and his former students perform and teach throughout the country. Under his direction the UNT Percussion Ensemble has toured in Poland, Croatia, France and Belgium and also won the PAS International Percussion Ensemble Competition. Mark Ford is the Artistic Educational Director for Tama/Bergerault and also proudly represents Innovative Percussion, Sabian, Evans Drum Heads and Meinl Percussion as performing artist and clinician.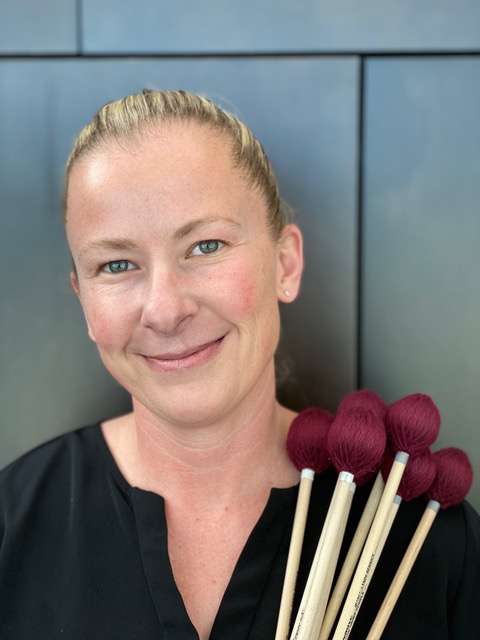 Sandi Rennick
Marimba/Santa Clara Vanguard/University of North Texas/Texas A&M University-Commerce
Sandi Rennick is a percussionist and marimba soloist with extensive performing and teaching experience in the DFW area and throughout the United States. An original cast member of the Tony and Emmy Award-winning production "Blast!", Sandi performed in London, England, as well as a featured marimba soloist on tour throughout the United States. Sandi is currently a percussion arranger for the Santa Clara Vanguard Drum and Bugle Corps (2011-present), and the Troopers Drum and Bugle Corps (2013-present).
Sandi is an Adjunct Professor of Percussion at the University of North Texas and Texas A&M University-Commerce. In addition to her drum corps responsibilities in the summer, she also serves on the faculty of the UNT Keyboard Percussion Workshop, and is a clinician for the Girls March music and leadership camps. Sandi is a Signature Artist for Innovative Percussion, Inc., and a clinician/artist for Dynasty/Titan, Remo Drumheads, and SABIAN / Gon Bops Percussion.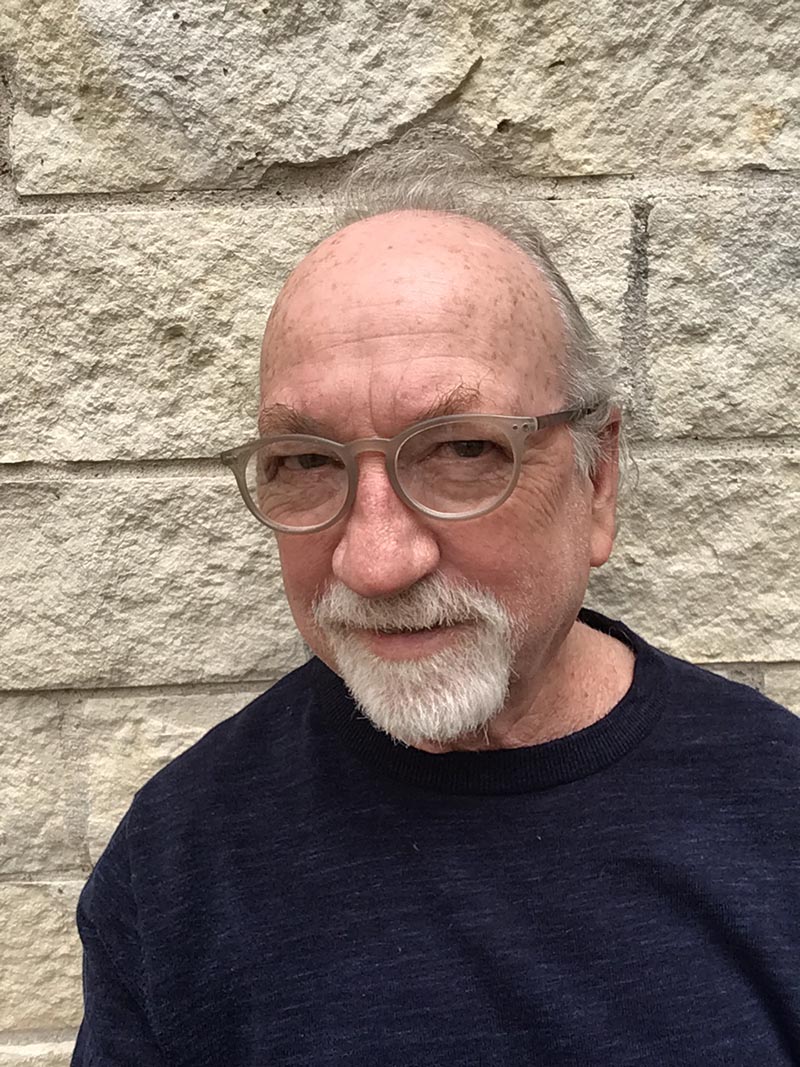 Ed Smith
Jazz Vibraphone/University of North Texas/Southern Methodist University
Ed Smith's music career as a jazz vibraphonist and percussionist spans more than four and and a half decades. He has performed with distinguished artists such as John Cage, Phil Wilson, Louie Bellson, Eric Sammut, Glen Velez, Trichy Sankaran, Nyoman Wenten, Hands On'Semble and many others. Along with teaching vibraphone at UNT, Ed also directs the UNT Balinese gamelan ensemble, Bwana Kumala. In 2009 Bwana Kumala won the first annual PAS World Music Ensemble contest and performed at PASIC later that year.
In 1990 Ed helped form the internationally recognized world percussion group, D'Drum, which in time recorded the soundtrack for the National Geographic film, Lions of Darkness, performed an avant-garde version of the Magic Flute in Hong Kong and played concerts around the USA along with two performances at PASIC. Beginning in 2009, with a commission by the Dallas Symphony Orchestra, D'Drum collaborated with The Police drummer Stewart Copeland to compose the world music concert, Gamelan D'Drum. The concerto was premiered in Dallas in 2011and the next year with the Cleveland Orchestra and other orchestras in the USA. The documentation of that collaboration eventually became the documentary film, Dare to Drum.
Ed is a Malletech Love Vibe Artist and has his own line of Malletech mallets.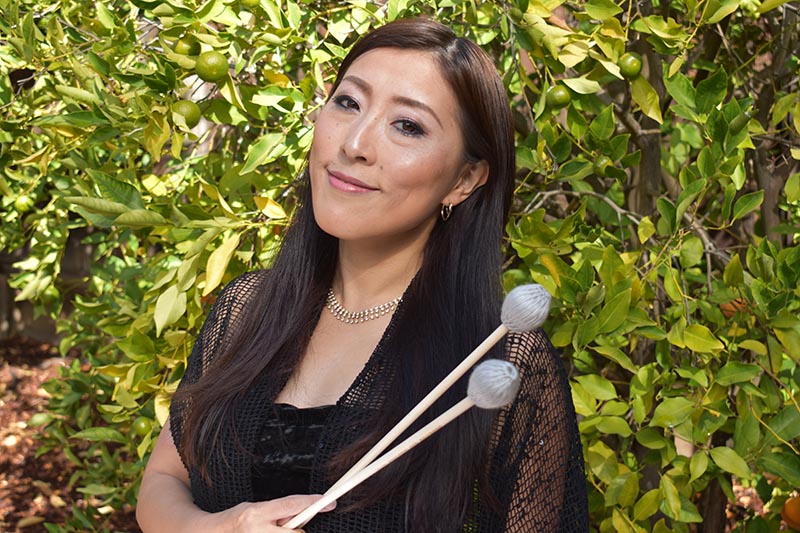 Naoko Takada
Marimba/University of Southern California
World renowned marimba soloist and Yamaha artist, Naoko Takada, has toured the world performing in such venues as Carnegie Hall, Conzart Haus in Berlin, Santory Hall in Tokyo, Kennedy Center in Washington D.C., and Lincoln Center in New York. As a soloist, she has performed concerti with numerous orchestras, including the New York premiere of Kevin Puts Marimba Concerto with Maestro Leonard Slatkin and the Orchestra of St. Luke's in Lincoln Center. At age eleven, she debuted with the Tokyo Symphony Orchestra and has since performed with the Tokyo Chamber Orchestra, KIOI Sinfonietta, Houston Symphony, Louisiana Philharmonic, China National Symphony Orchestra, KIOI Sinfonietta Tokyo, Anchorage Symphony, South Dakota Symphony, and West Los Angeles Symphony and more. As a judge, she has served in numerous prestigious international competitions, such as the PAS composition and marimba competition and the Young Concert Artist International Audition.
Tadaka's CD, "Marimba Meets the Classics," is available through her website. Her compositions and transcriptions are available through Musicon Publications and Studio 4 Music, and her signature lines of mallets are available through Encore Mallets, Inc. She teaches marimba at the University of Southern California.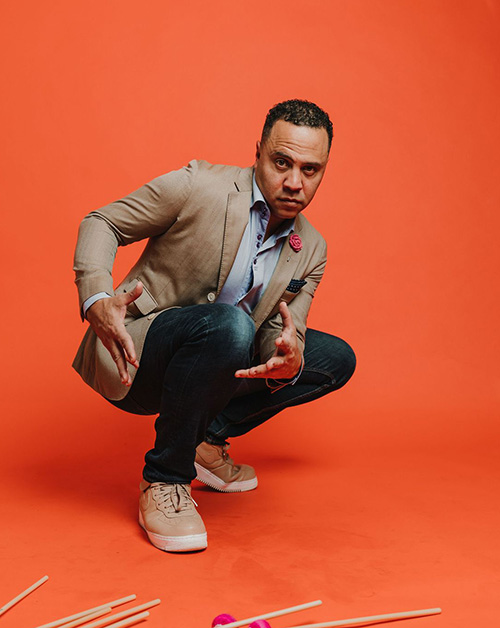 Drew Tucker
Jazz Vibraphone/Kell High School
Drew Tucker is a musician, educator, and social entrepreneur—a unique combination of talents that place him at the intersection of the arts and activism. Artistically, he's at the forefront of the movement to reinvent the vibraphone—a dynamic instrument that he melds with soul, funk, jazz and hip-hop influences. He has shared the stage with Shaun Martin, Mani Hoffman, Jeff Coffin, Tom Hurst, Nebojsa Zivkovic, Norah Jones, Mark Ford to name a few. He has toured extensively throughout the Americas and his jazz influenced twists on modern-day standards from Michael Jackson, to Prince and The Police, have earned him key endorsements from Innovative Percussion, Musser, Beetle Percussion, Lot Riot and Sabian Cymbals— and the esteemed title of "Cultural Ambassador" by the U.S. Department of State and the applause of sold-out audiences worldwide.
Drew's passion for improving people's lives through artistic endeavor is unwavering. Drew Currently tours solo and with his band 'The New Standard,' serves regularly as a guest clinician and speaker, and is the percussion director at Kell High School in Marietta Georgia.
Guest Artists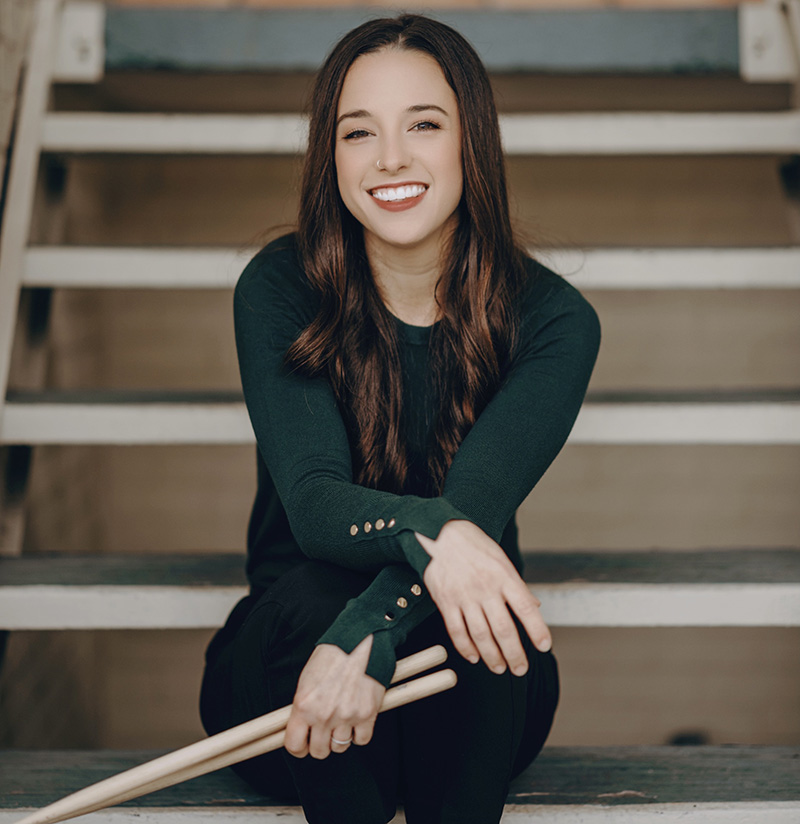 Kaylie Brooke
Blast!/James Bowie High School
Kaylie is a percussion educator and performer from Dallas, Texas, and is currently featured in MEG's Broadway production of 'Blast! The Music of Disney' as the marimba soloist and marching snare drummer. She has been touring with the production in Japan since 2017.
Kaylie has over a decade of stage experience working particularly as a freelance commercial entertainment drummer throughout the United States and internationally. She has performed on stage with pop artists like Meghan Trainor and AR Rahman, with professional drumlines such as the Dallas Mavericks Drumline and the San Antonio Spurs Drumline, and has been cast as a percussionist for a variety of stage shows with Kyodo Tokyo Inc in Japan.
Kaylie currently resides in Austin, Texas where she manages her own private lesson studio and is currently on faculty with the Stryvemind virtual lesson platform.
Kaylie is an artist and clinician for TAMA/Bergerault and the Sabian Education Network.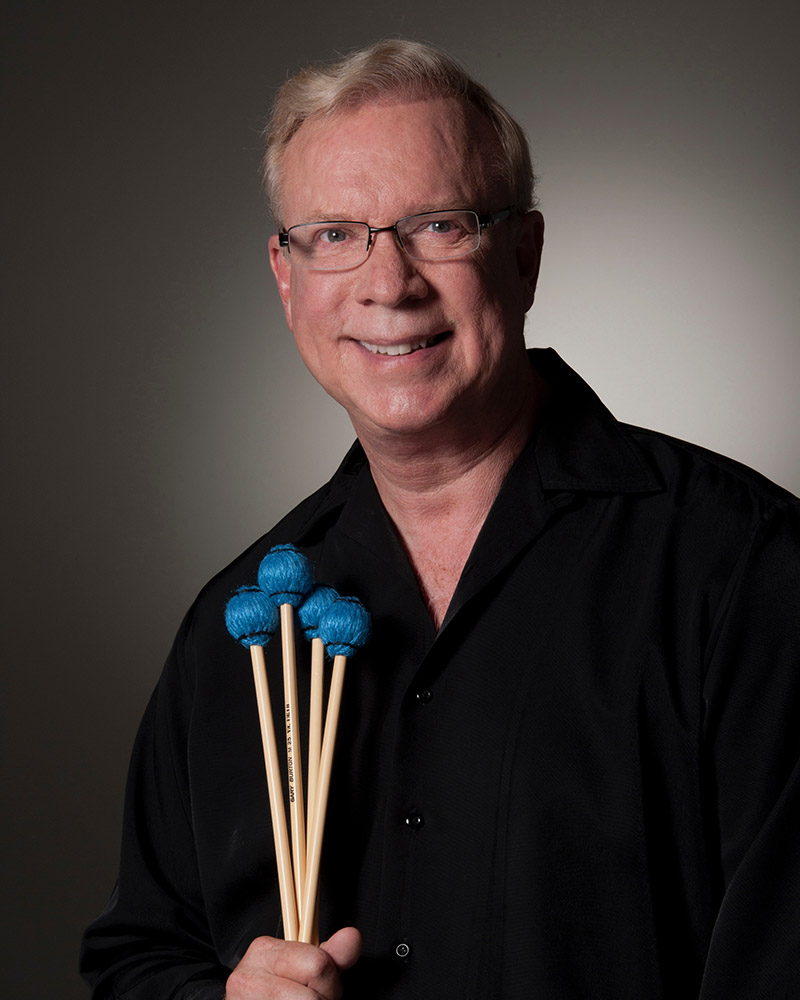 Gary Burton
Jazz Vibraphone
Gary Burton has had a vibrant and busy life playing with Chick Corea, Chet Atkins, Stan Getz, Quincy Jones, Arif Mardin, Pat Metheny, and many more. Along the way, he has been nominated for more than a dozen Grammy Awards, winning seven. His four-mallet vibraphone technique has exploded the music world, showing the capacity for the instrument to offer a range and depth no less versatile than that of the piano. Gary Burton is an artist whose musical influence has reached well beyond the world of jazz. The American Percussion Seminar is proud to host Gary Burton in a Q&A session for seminar participants.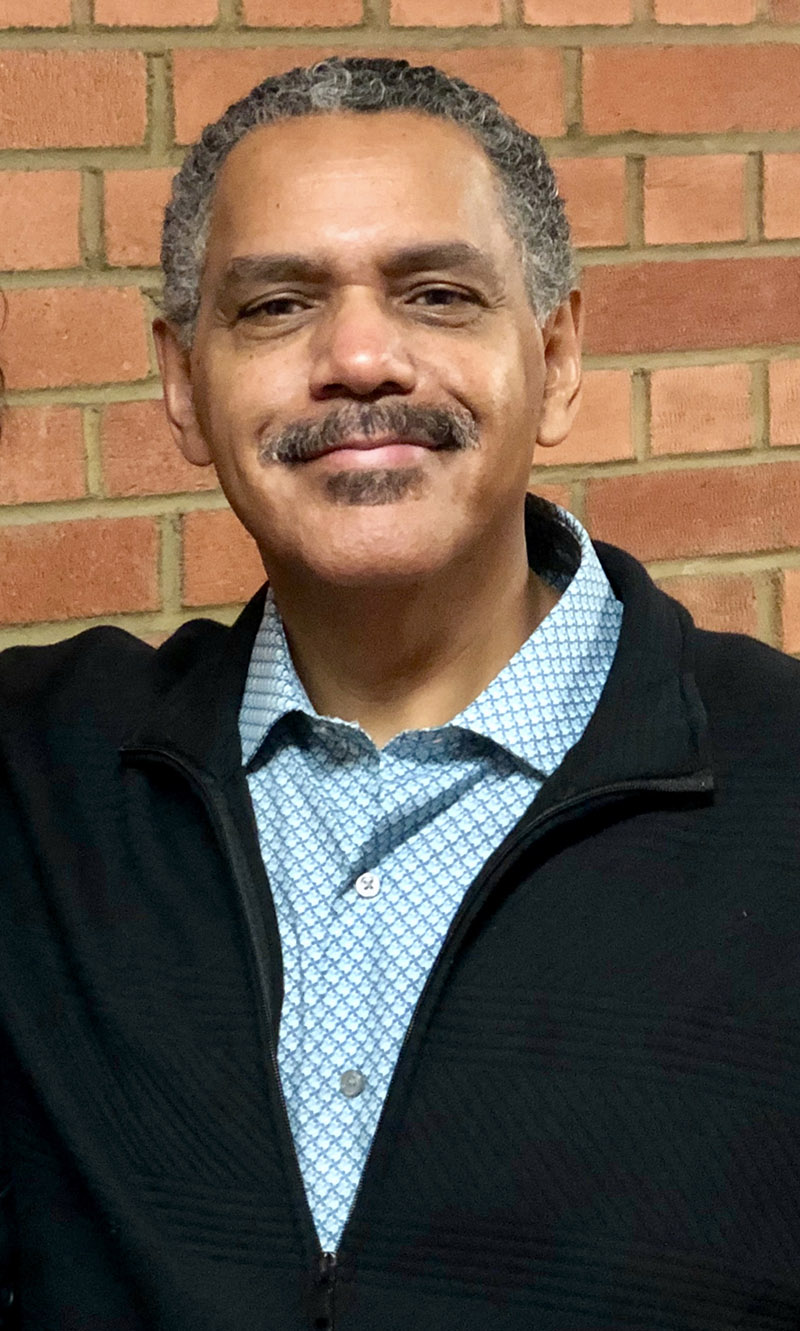 Raynor Carroll
Orchestral Percussion/Emeritus Los Angeles Philharmonic Orchestra
From 1983 until his retirement in 2016, Raynor Carroll played timpani and percussion with the Los Angeles Philharmonic. In his 33-year career as principal percussionist, Mr. Carroll performed and recorded with such conductors as: Carlo-Maria Giulini, Andre Previn, Esa-Pekka Salonen, Gustavo Dudamel, Zubin Mehta, Pierre Boulez, and Leonard Bernstein. Mr. Carroll also records motion picture soundtracks for Hollywood studio composers such as Maurice Jarre, David Newman, Thomas Newman, Arthur Rubinstein, Alan Silvestri, Todd Cochran, and Terence Blanchard. Mr. Carroll can be heard on several Spike Lee movies including Miracle at Saint Anna and BlacKkKlansman.
Mr. Carroll performs regularly with the Sphinx Symphony, a unique all Black and Latinx orchestra comprised of top professionals from around the country. Mr. Carroll also performed with the Chineke! Orchestra, Europe's first professional orchestra to be made up of Black and minority ethnic musicians.
Mr. Carroll is the founder and owner of Batterie Music, a publishing company specializing in music for the symphonic percussionist. In his retirement, Mr. Carroll continues to write for percussion, teach master classes, perform, and encourage the next generation of musicians.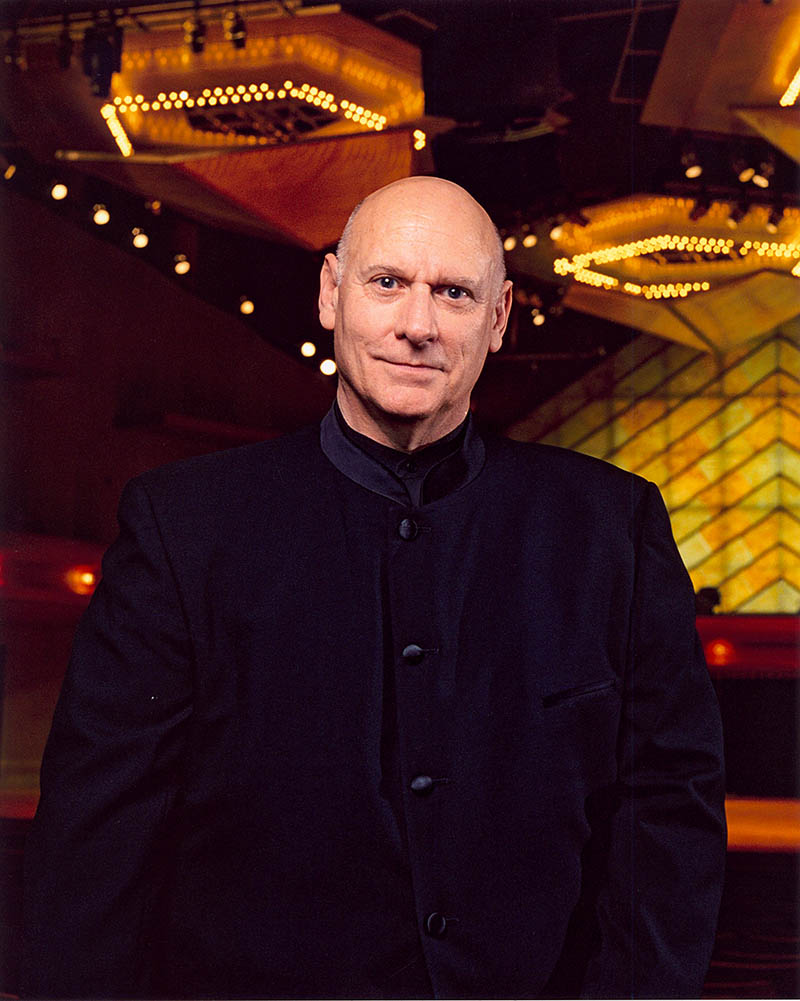 Eugene Migliaro Corporon
Conducting Percussion/University of North Texas
Eugene Migliaro Corporon is the conductor of the Wind Symphony and Regents Professor of Music at the University of North Texas. As Director of Wind Studies he guides all aspects of the program, including the master's and doctoral degrees in wind conducting.
Having recorded over 1000 works, including many premieres and commissions, his groups have released 150 plus recordings on the GIA, Toshiba/EMI, Klavier, Mark, CAFUA, Donemus, Soundmark, Albany, Naxos, and Centaur labels. These recordings, three of which have appeared on the Grammy nomination long ballot, are aired regularly on radio broadcasts throughout Asia, Europe, and the Americas. The collective recordings with the North Texas Wind Symphony, Cincinnati Wind Symphony, Showa Wind Symphony and Lone Star Wind Orchestra have garnered more than 15 million hits worldwide on such sites as YouTube, Pandora and Spotify.
He is co-host with Barry Green on The Inner Game of Music video, which focuses on overcoming mental obstacles and achieving one's full potential as a performer. He also appears with James Jordan on The Anatomy of Conducting DVD. He is co-author of the book Teaching Music Through Performance in Band that is published in eleven volumes by GIA Publications.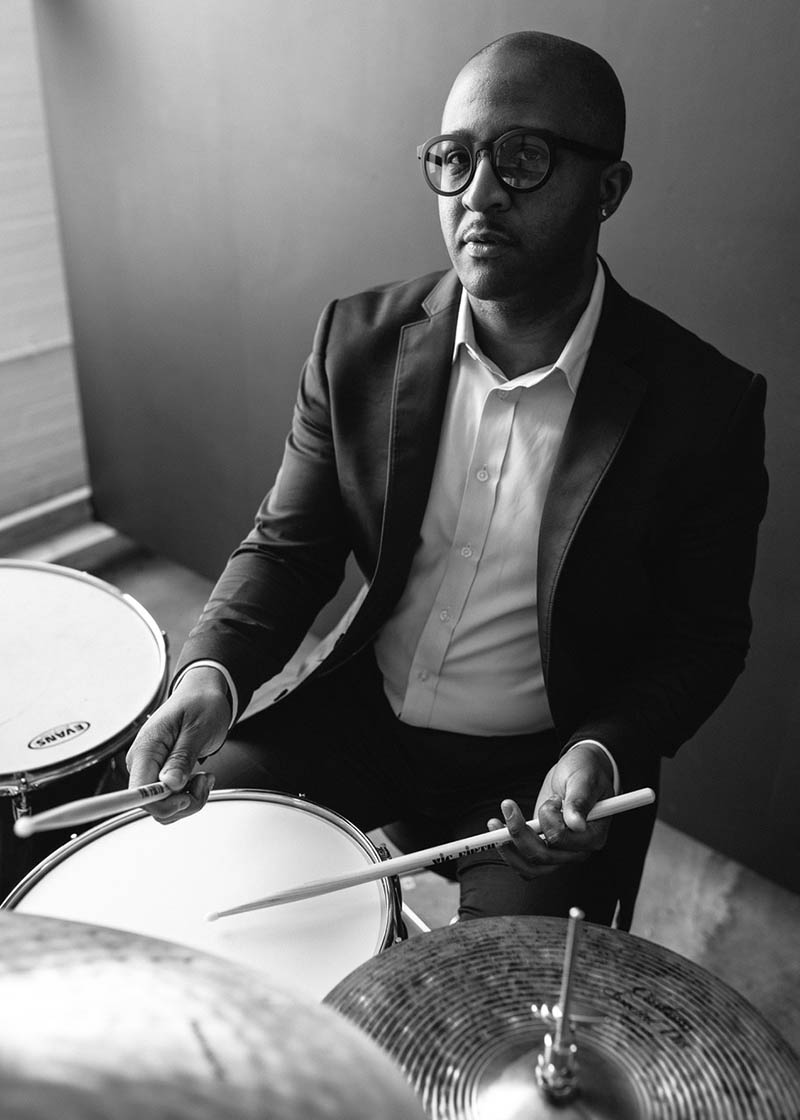 Quincy Davis
Drum Set/University of North Texas
Davis began teaching at the University of North Texas, home of the grammy award winning One O'Clock Lab Band where he is the assistant professor of jazz drum set.
Quincy can be heard on over 50 albums playing with many notable jazz artists including Tom Harrell, Gretchen Parlato, Bobby Watson, Benny Golson, Ted Rosenthal, Marcus Printup, Dave Stryker, Walt Weiskopf, Stefon Harris, Benny Green, Aaron Diehl, Frank Wess, Bobby Watson, Xavier Davis, Danny Grissett, Vincent Gardner, Frank Wess, Darmon Meader, Sachal Vasandani and many more.
Davis stays very active as a performer keeping an active performance schedule and traveling internationally to perform. His passion for teaching is not only evident through his teaching at the University of North Texas, but also through his many video lessons on jazz drumming and interviews with master drummers on his YouTube channel which has over 11k subscribers.
Quincy is a proud endorser of Zildjian cymbals, Tama drums and Vic Firth drumsticks.
Christopher Deane
Timpani/University of North Texas
Christopher Deane is a professor of percussion at the University of North Texas College of Music teaching orchestral timpani, mallets, and directing the UNT Percussion Players. He holds performance degrees from the University of North Carolina School of the Arts and the Cincinnati College-Conservatory of Music. He studied with James Massie Johnson, former principal timpanist of the St. Louis Symphony and percussion with Allen Otte. He has also studied independently with Roland Kohloff, N.Y. Philharmonic, Eugene Espino, Cincinnati Symphony and Leonard Schulman, N.Y. City Opera.
Christopher Deane has served two terms on the PAS Board of Directors. In 2019 he received the Lifetime Achievement Award from the Percussive Arts Society. He is a clinician for the Tama/Bergerault Corporation, Black Swamp Percussion, Innovative Percussion and Sabian Cymbals.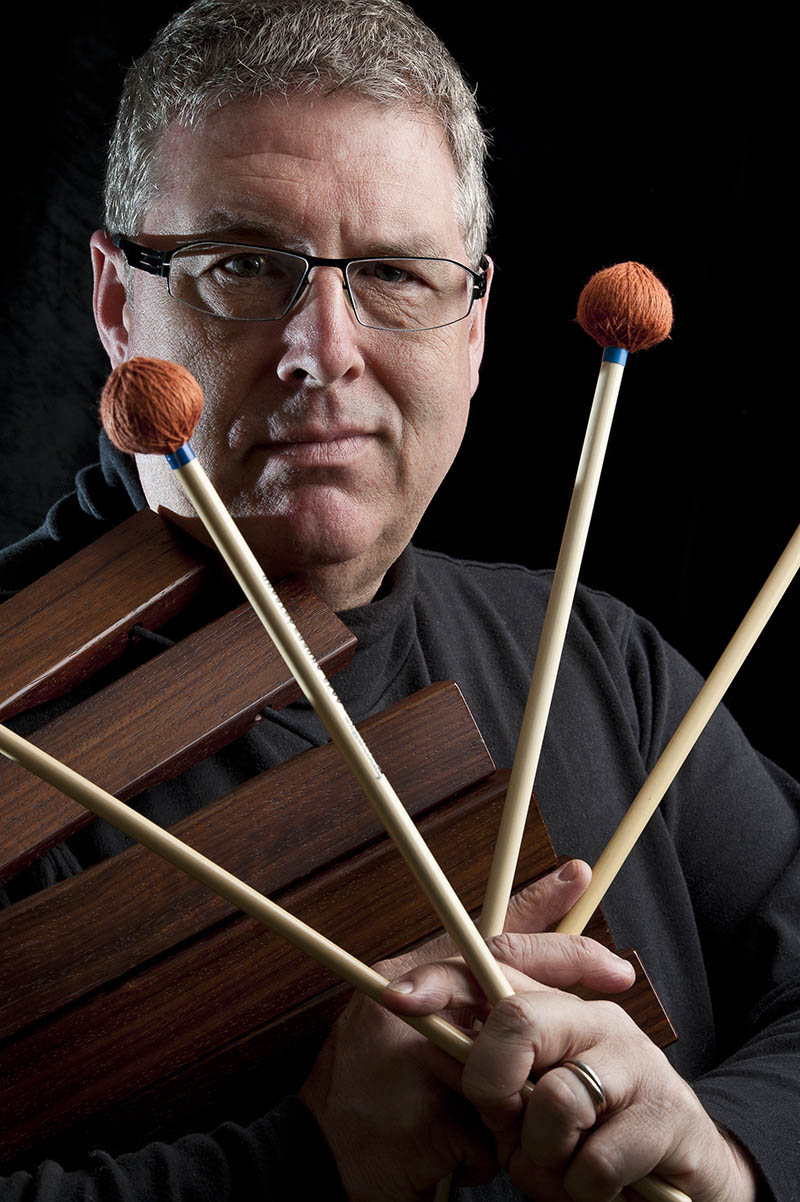 Gary France
Percussionist Entrepreneur/Groove Warehouse
As an International Clinician for Yamaha Musical Products, Remo, the Zildjian Cymbal Company, and Innovative Percussion Products he has toured presenting master classes, concerts and workshops throughout the U.S.A, Canada, Taiwan, Australia, Indonesia, Korea, Singapore, India, Brazil and New Zealand, Mexico and Cuba. As a World Music Performer, his own personal research has led him to India, Africa, Brazil, Cuba and Indonesia.
Gary France regularly provides Leadership to numerous organisations such as Head of Music West Australian Conservatorium of Music (WAAPA) (1992 – 1994) Head of the ANU School of Music (2005) as well as Convener/Artistic Director of numerous major events such as Heartbeat multi-cultural Music Festival (1995), the Australian National Marimba Festival (2001) the Rhythms of Life Percussion Festival (2002) the DRUMatiX Percussion Group, the Australian National Percussion Symposium (2003), Australian Music Educators National Conference (2005), The Australian International World Rhythms Festival (2008), The Australian Marimba Festival (2008), and PAS Australia Days of Percussion 2012, 2013 The PAS Australia National Drum and Percussion Camp 2014.
Gary France has is currently the owner and director of the Groove Warehouse, an innovative facility that blends teaching and performance in percussion. www.groovewarehouse.com.au
Ji Hye Jung
Marimba/Vanderbilt University's Blair School of Music
Ji Hye Jung is Associate Professor of Percussion at Vanderbilt University's Blair School of Music and principal percussionist with the west coast-based chamber music ensemble Camerata Pacifica. An advocate for new music, she has commissioned works by Kevin Puts, Emma O'Halloran, Annika Scolofsky, Bora Yoon, Molly Herron, Christopher Theofanidis, Alehandro Viñao, Lukas Ligeti, Paul Lansky, Jason Treuting, Michael Torke, David Bruce, Huang Ruo, and John Serry.
Ms. Jung garnered consecutive first prizes at the 2006 Linz International Marimba Competition and the 2007 Yale Gordon Concerto Competition while completing a Master of Music degree from the Yale School of Music and a Bachelor of Music degree at the Peabody Institute of Johns Hopkins University. As an artist endorser, she proudly represents Pearl/Adams instruments, Vic Firth sticks and mallets, and Zildjian cymbals.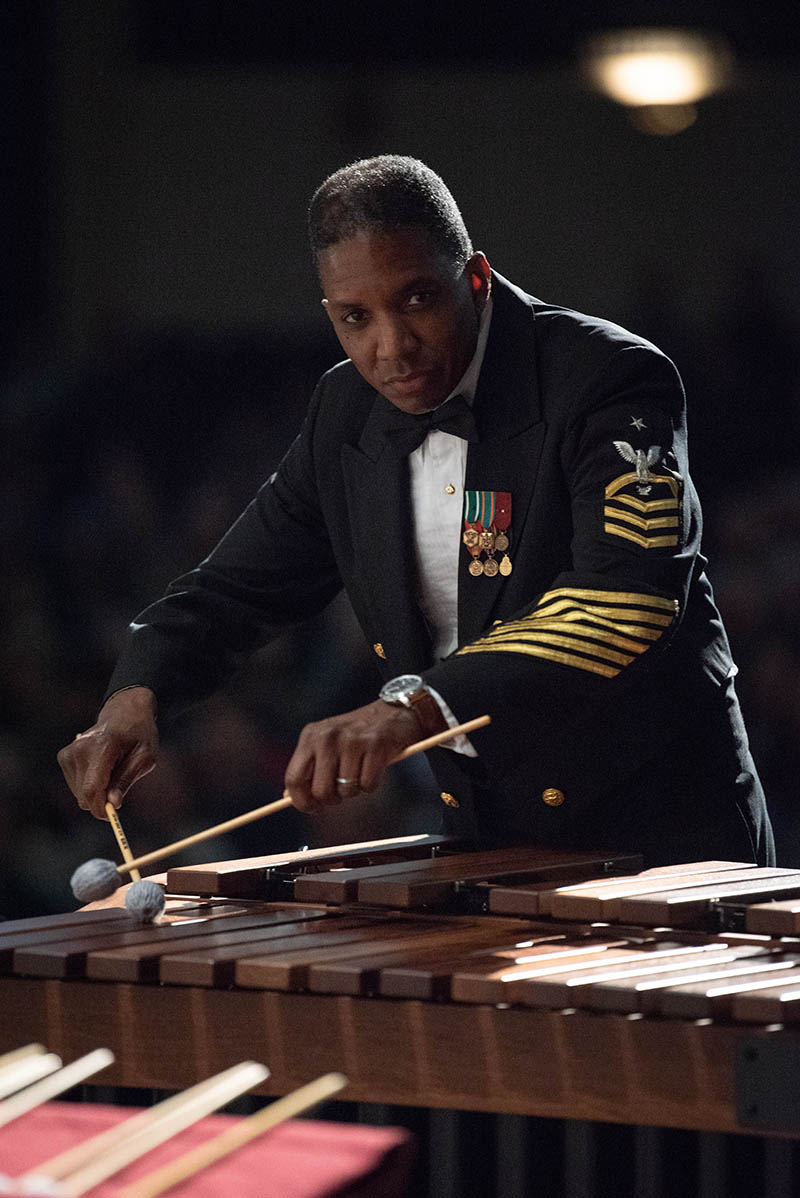 Stacy Loggins
Audition Preparation/Emeritus US Navy Band
Stacy Loggins (USN Retired), a native of Las Vegas, was a member of the United States Navy Band, Washington, D.C. from 1994-2019. Stacy has written for Percussive Notes magazine, and has performed with the Lawton Philharmonic Orchestra, the Georgetown Symphony, the McLean Symphony Orchestra, the Fairfax Symphony Orchestra, the Cathedral Choral Society Orchestra and has played multiple shows at the Grammy Award winning Signature Theatre in Arlington, Virginia. He has also recorded extensively with the Navy Band and Omega Recording Studios.
A frequent Navy Band soloist, Loggins was a featured marimba, xylophone, and steel pan soloist on more than 100 national tour performances, showcase concerts, and chamber recitals. He has performed in all 48 continental United States, written many Navy Band percussion arrangements, and has performed in Sweden, Norway, Quebec, St. Thomas, and Russia. He is an active freelance percussionist in the Washington, D.C. area, and he has appeared with many of the country's top ensembles and musicians. He also established, manages, and frequently performs in his regional calypso band, Tobago Bay, throughout Washington, D.C., Virginia, and Maryland.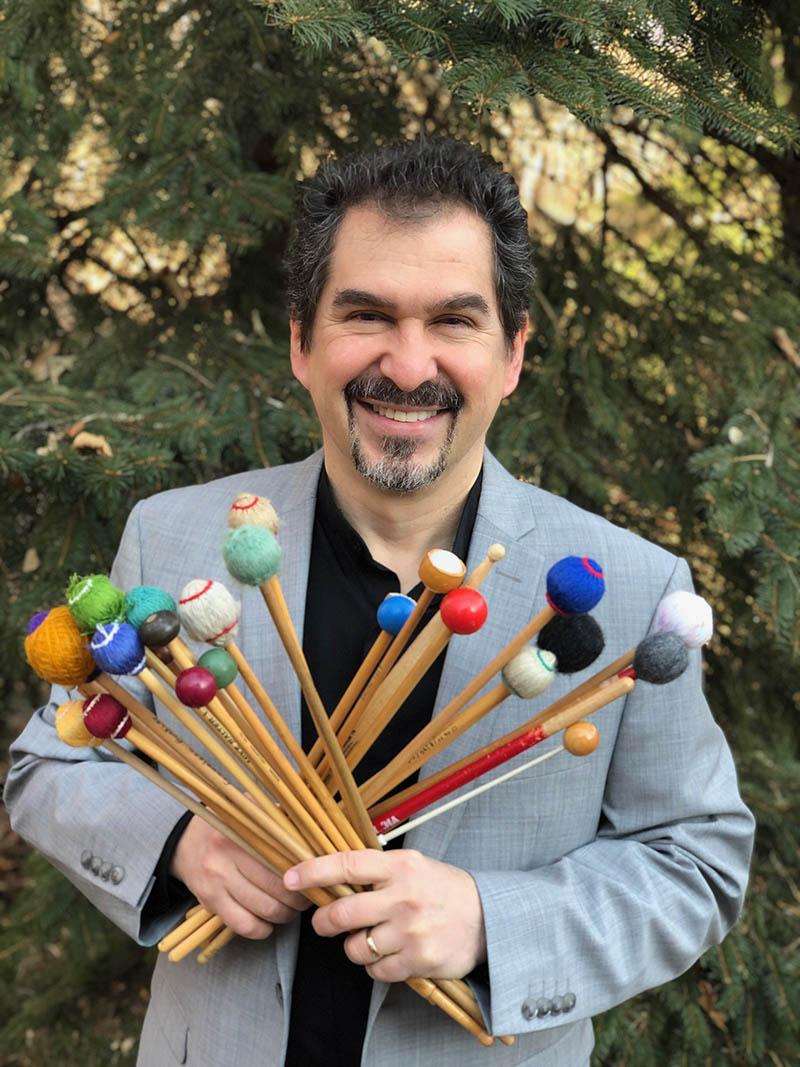 Fernando Meza
Marimba/University of Minnesota
Fernando Meza is director of percussion studies at the University of Minnesota School of Music. A native of Costa Rica and formerly principal percussionist of its National Symphony Orchestra, Meza has performed with the Saint Paul Chamber Orchestra and Minnesota Orchestra in such venues as Carnegie Hall, Lincoln Center, Musikverein, Berliner Philharmonie, Royal Albert Hall, and in unique tours of Cuba and South Africa. He has recorded and toured in Japan and Latin America with Keiko Abe, and in Europe, Lithuania and the USA with Nebojsa Zivkovic, as part of the Jovan Perkussion Projekt. Meza was one of the original percussionists for the Broadway production and original-cast recording of Disney's The Lion King, was the organizer/host of Marimba 2010 International Festival and Conference, is a performing artist/clinician for Grover Pro Percussion, Zildjian, and OBiolley Instruments, and has served as the percussion faculty member for the Orchestra of the Americas since 2003. His recording J.S. Bach: Suites for Unaccompanied Cello performed on Marimba by Fernando Meza is distributed through cdbaby.com, iTunes, and other digital music providers.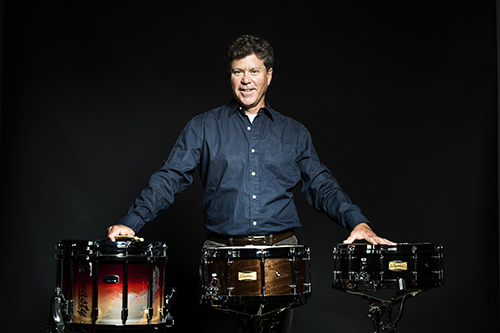 Paul Rennick
Snare Drum/Santa Clara Vanguard/University of North Texas
Paul Rennick is an Associate Professor in Percussion at the University of North Texas where he has served on the faculty since 1991.  A leading figure in the world of marching percussion and percussion education, Paul has a long history of successful students and renowned performing ensembles and has been a featured clinician and guest artist worldwide. In 2017, he was elected to the Drum Corps International Hall of Fame.
In addition to his teaching responsibilities at the University, applied lessons, percussion ensembles, percussion arranging, Paul is currently the music coordinator, percussion director and arranger for the 2018 World Champion Santa Clara Vanguard Drum & Bugle Corps, recently winning the DCI Fred Sanford Award for Percussion Performance four years in a row, five times in the last six years achieving the rare feat of winning the DCI drum trophy multiple times with two different organizations. Since 2103, Paul has also been the percussion coordinator and arranger for the Troopers Drum & Bugle Corps. 
Paul served as the director of percussion for the Phantom Regiment Drum & Bugle Corps from 2003-2010, winning the Drum Corps International Fred Sanford Award for Percussion Performance three times, and the DCI Championship in 2008.
Paul was a design team member, music composer/arranger, instructor, and percussion manager for the Tony & Emmy Award-winning Broadway production "Blast!" 
He is also an active performer, appearing as a featured soloist across the United States and Asia, most recently on the UNT Wind Symphony recording "Contact", the University of North Texas Percussion Ensemble recording "Vespertine Formations", and the UNT Wind Symphony DVD recording "Percussive Palooza," with a related showcase concert at PASIC.  He is also an active composer with many popular works for percussion published by Innovative Percussion, Musicon Publications, and Drop6 Music.
Paul is an artist and product consultant with Dynasty/Titan USA, and designed the "Custom Elite" series of drums and keyboards.  He is also a signature artist with Innovative Percussion, Inc., with four stick designs, FS-PR, FS-PR2, TS-PR, and CMS-1, as well as an artist/clinician and product consultant for Remo Inc. and SABIAN/Gon Bops Percussion.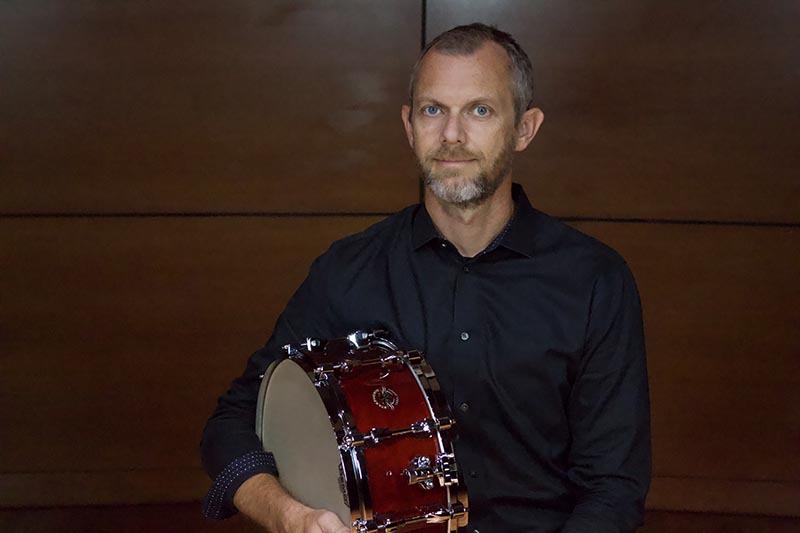 Eric Willie
Snare Drum/University of North Carolina at Greensboro
Described as a "true musical talent and professional" Eric Willie has a varied career as a percussion soloist, chamber musician, and teacher. Having performed on three continents, Eric has presented solo performances throughout the United States, Russia, Brazil, and Colombia. Prior to COVID, Eric most recently performed as a soloist with the Tamborimba Ensamble in Cali, Colombia; and conducted Edgard Varese's "Ionisation" at the III Encontro Percussivo in Recife, Pernambuco Brazil. In the United States, Eric has performed or presented at ten Percussive Arts Society's International Conventions (PASIC), presented at the Midwest Clinic, as well as several state days of percussion and music educator conventions. As a chamber musician, Eric performs with the Nief-Norf and the Legal Wood Projects. He has performed on multiple occasions at the Big Ears Festival, and has performed chamber concerts associated with the Nashville Symphony, ProMusica Chamber Orchestra, as well as the Winston-Salem Symphony (where he serves as a member of the percussion section). Currently, Eric serves as Associate Professor of Percussion Studies at the University of North Carolina at Greensboro, where he directs a comprehensive percussion program. His ensembles at UNCG have been named winners of the 2015 and 2020 (2021) PAS International Percussion Ensemble Competition. Eric is an artist/clinician for Tama/Bergerault, Zildjian and Innovative Percussion.